Alan Bean, Friends of Justice
Mary Ann Colomb died on February 8, 2021. The last fifteen years of Ann's life were lived in the company of her friends and family. But when she called Friends of Justice back in 2004, her world was falling apart. The story you are about to read was written, for the most part, in the late summer of 2006. It is based on numerous lengthy interviews with those involved and hundreds of hours of research into relevant legal documents. Ann and her family demonstrated amazing courage, resourcefulness and faith during this excruciating time. I dedicate this narrative to Ann.
This is a Happy Day!
Everyone knew what hung in the balance: the government's unfettered and promiscuous use of inmate snitch testimony. DEA officials and high-ranking officials with the U.S. Attorney's office were in the spectators' gallery following the proceeding with a concern bordering on desperation.
The day-long hearing was tense and adversarial. No one knew what to expect. Judge Melancon could sentence the defendants to between ten and twenty years in prison and order that the family home be forfeited to the U.S. government. Or he could call for an evidentiary hearing. Or he could grant new trials and release three of the four defendants.

"If this conviction stands it will be a miscarriage of justice," attorney Bill Goode charged.

"The court cannot re-weigh the evidence or substitute a judgment it feels is more reasonable," U.S. Attorney Brett Grayson fired back.

"Motions for a new trial are not favored," Judge Tucker Melancon agreed, "and are granted only with great caution." New trials could only be granted, the judge told us, "in exceptional cases in which the evidence preponderates against the verdict."

Finally, after a ten-minute break stretched to an agonizing half-hour, Melancon gazed at the ceiling and rendered his ruling. "I am convinced," he said after ten minutes of preamble, "using the more onerous standard, that the defendants' motions for a new trial, in the interest of justice, should be granted."

Gasps of joyful disbelief echoed through the courtroom. "That will be enough of that!" a U.S. Marshall barked. The Judge told the Marshall to have Ann Colomb, Edward Colomb and Danny Davis back on the street within an hour.

As we waited outside the hulking structure they call the Lafayette Parish Correctional Center, little children, light-headed from the heat and intense humidity, were rolling listlessly down a grassy embankment—working heroically to entertain themselves in an atmosphere of high tension, joy and horror they could scarcely understand.


The children of inmates are remarkably resilient. Survival depends on it. A few weeks before the July 14th sentencing hearing in the Colomb-Davis case little Mariah Price was sitting in my lap reading from a Bible-story picture book. I turned the page to a picture of Joseph in prison.

"Do you know who that is?" I asked.

"He's Jesus," Mariah informed me. "He's in jail with my granny and God's gonna get them out."

Weeks later, as July 14th dawned, young Mariah Price bounced out of bed and clapped her hands. "This is a happy day," she told her mother, "'cause my granny is getting out of jail." Jennifer Price hugged her little girl and prayed that she was right.

When you open a 500-piece puzzle the complexity is overwhelming. Over the next several weeks I will be putting together the pieces of the Colomb-Davis narcotics conspiracy puzzle and when I am finished you will understand why this case has the feds shaking in their well-polished wingtips.
A Town in turmoil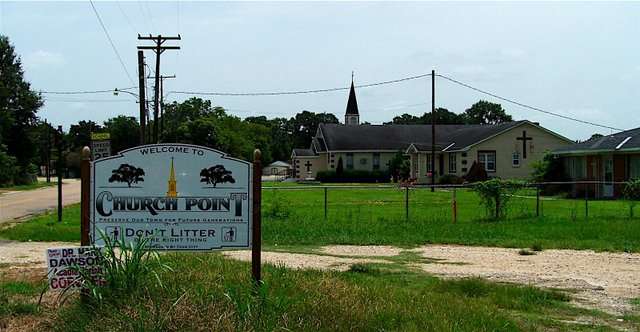 The Colomb-Davis saga began in 1981 when James Colomb signed up for an FHA mortgage on a brick three-bedroom home on the south end of Church Point, Louisiana. James was vaguely aware that the home was located in an all-white neighborhood, but the television news led him to believe that racial attitudes in America had shifted radically in recent years.

In one sense James was right. The Federal Housing Administration's 1939 Underwriting Manual cited the threat of "inharmonious racial groups" and stipulated that "if a neighborhood is to retain stability, it is necessary that properties shall continue to be occupied by the same social and racial classes."

But the civil rights movement of the 1960s marked a profound shift in philosophy. Four years before the Colombs purchased their home on the south end of Church Point, the Community Reinvestment Act mandated that lending institutions actively encourage applications from low-income clients.

If James and Ann Colomb believed a new day of racial harmony was dawning in Church Point, Louisiana they were tragically mistaken. In 1981, the sleepy little town was perfectly and (from the white perspective) happily segregated. The black population (roughly 30% of Acadia Parish) had its own Catholic Church, its own park, its own neighborhood—it even had its own Mardi Gras parade. Who could ask for anything more?

Black residents saw things a bit differently. Compared to the shacks in north Church Point, the Colombs' three-bedroom FHA dwelling looked mighty inviting. It wasn't long before other black families were following where James and Ann Colomb had led. Thanks to white flight, a once all-white neighborhood is now predominantly black. In the late 1980s when Sammy Davis, the eldest of Ann's five children, started high school, the demographic shift in south Church Point was just beginning to gather steam.


A stocky young man, Sammy quickly emerged as a stalwart of the football team. In his freshman year of high school he started dating a white girl. The white community was horrified. The girl's parents threatened to disown her. Throughout the South, the legislative revolution that allowed James Colomb to purchase an FHA home on the white end of town was resented as a Yankee intrusion. Most white residents of Church Point believed that integrated communities and inter-racial dating were sins against God that could not be countenanced.

It wasn't long before Sammy Davis's brothers, Edward, Danny and Randy, had white girlfriends of their own. The local Ku Klux Klan responded with a barrage of threatening (and anonymous) phone calls. "You better tell that son of yours to quit messing with our girls or you're gonna find him hanging from a tree," one caller said.

"Well, you better make sure there's another stout limb on that tree," Ann replied, "'Cause I'm gonna find out who you are, I'm gonna hunt you down, and I'm gonna string you up right beside my son."

The bold façade masked a growing sense of alarm. As the violence and frequency of the hate calls increased, Ann and James had their phone disconnected.

Within the youth culture, the strict segregation that had long characterized Church Point society was disintegrating. The sense of alarm deepened when Edward Colomb began attracting the attention of college basketball scouts and his younger brother Danny showed early promise as a fullback. Star athletes are prime dating material and Ann Colomb's boys were no exception to the rule.

For generations, "the Boulevard" (an oblong drag bordered at one end by the white Catholic church) had been the social center of high school life. If you grew up in a small town you know the drill—kids circle the block in their cars looking for friends and dating prospects. Cans of beer are passed around and the local cops look the other way because, a decade earlier, they were the ones circling the Boulevard. Black people knew better than to show up . . . until the Colomb boys hit high school. The thought of an integrated Boulevard was more than most white folks could handle.

As a tumultuous 1992 gave way to 1993, the racial tension in tiny little Church Point, Louisiana was palpable. Something had to give.
Get Your Black Ass Back Home
Tim Price feared the worst when he saw the red and blue lights flashing in front of his girlfriend's home. He had spent the afternoon in the nearby town of Carencro checking out a car with Edward Colomb and the two young men had just arrived back in Church Point. They circled the block to avoid detection. By the time they were back on Broadway Street the police cars were gone and an ambulance, its siren blaring, was pulling away from the Colomb residence. Tim and Edward followed the ambulance to the hospital.

When they arrived at the emergency ward James Colomb was being treated for an angina attack and heat flashes. The Colomb patriarch had been disabled since 1991 and the shock of seeing a dozen uniformed officers busting down his unlocked front door had overloaded his system.
"They arrested momma," Jennifer told Tim Price. "Soon as they were inside, they handcuffed her and now they got her in Crowley."
Tim's worst fears were quickly realized. The police raid had turned up 74 grams of crack cocaine, a gun and some money in the guestroom drawer. "There's something I need to tell you," he whispered to Jennifer.

As soon as James Colomb's condition had stabilized, Tim jumped in a car with Jennifer and Edward's wife, Natasha and drove to the Sheriff's department in nearby Crawley: Tim was ready to take personal responsibility for the drugs, the gun and the money. The authorities were bound to associate him with the crime sooner or later. The gun the police found with the drugs would soon be traced to his mother, a police officer in nearby Crowley. Tim had taken the gun for protection without informing his mother. Tim and Jennifer and had spent the previous night with the Colomb's guestroom.

"I'm here to take responsibility for the drugs y'all found in Ann Colomb's place," Tim told the deputy at the desk. He handed Jennifer his wallet, his car keys and a few other personal items. The deputy led the young man to a holding cell and told him an officer would be down to take a statement in a few minutes. Tim waited in silence. Since this was his first offense he was hoping he could get off with probation.

Ten minutes later the deputy was back. "Detective Hundley says you can get your black ass back home," the expressionless officer said. "We ain't lookin' at you for this. But Hundley says 'tell your homeboy Edward he needs to come and get his momma'."

When Ann Colomb was arraigned in Crowley a few days later, Tim was in the courtroom, determined to do the right thing. An officer approached and asked him to step outside. He was told that if he was smart he wouldn't say whatever he was fixing to say.

When Tim learned the case had gone federal, he drove to Lafayette to talk to Assistant U.S. Attorney Brett Grayson. Like his country compatriots, Grayson didn't want to talk. His investigation was focused on the Colomb family. If Tim wasn't prepared to pin the money, the gun and the drugs on Ann and her boys Grayson wasn't interested.

Shaking his head, Tim wandered outside. For the next five years he would be a haunted man–the victim of his own good fortune.
Cooperating with the Government
The day after the big bust at the Colomb's place, Stevie Charlot was summoned to the Parish Sheriff's office in Crowley. He was told to stay away from the Colombs until further notice. They wouldn't tell him why.

The answer came three-and-a-half months later when a Sheriff's deputy delivered a federal Grand Jury summons. The Deputy told Stevie that Detective Brian Hundley wanted to talk to him. The summons was accompanied by copies of the reports Detective Hundley had filed in connection with the Colomb raid. Reading through this material, it dawned on Stevie that he was expected to testify that he had purchased drugs from the Colombs the day of the raid. All the details were right there in Detective Hundley's police reports. According to Hundley, Stevie was his confidential informant.

Alarmed and infuriated, Stevie called up Brett Grayson. He told the federal prosecutor that he didn't know anything about the facts alleged in Hundley's report and, as a consequence, he wouldn't be testifying on February 19th. Grayson was unperturbed. Stevie could do whatever he wanted, but if he didn't testify voluntarily he would be arrested and his parole would be revoked. Stevie's parole was set to expire the very day he was being asked to testify before the Grand Jury. This was no accident. Drug dealers and users who are "in the system" (prison, probation or parole) are easily squeezed by prosecutors. Threats and promises work exceedingly well with this population because the precious commodity of freedom is at stake.

Although he had been told to avoid the Colombs, Stevie arranged a meeting with Ann. Maybe she would know what was going on. Ann said Stevie had no choice but to testify, but he could protect himself by having an attorney record what really went down the day of the raid. An hour later, Stevie was talking into attorney Daniel Stanford's tape recorder.
Stevie told Stanford the truth. He and his mother had dropped by the Colomb place the day of the raid to tell "Miss Ann" that his father was being transferred to a hospital in Church Point. The visit lasted only a few seconds, Stevie said, and neither he nor his mother even got out of the car. Hospital records verify that Stevie's father had been transferred to the Church Point Hospital on October 22nd.

Stevie intended to defy his summons to testify to the grand jury, but Grayson, the Assistant US Attorney, wasn't taking any chances. Just as he had promised, he had Stevie arrested and locked up overnight so he was bound to show. The setup was perfect. If Stevie followed Hundley's script, his parole wouldn't be revoked; if he went with what he had told Daniel Stanford, it would be revoked.
When Stevie Charlot was taken to the courtroom on March 12th, 2002 he was pretty sure what he was supposed to say and tried his best to say it. Unfortunately, Detective Brian Hundley had amended his police report so many times it was hard to know which version of the story he was supposed to corroborate. Officer Troy Hebert had been added to the story late in the game to corroborate Hundley's account, but Hebert doesn't appear in earlier reports.

Having read Hundley's report, Stevie knew he was supposed to have approached the Colomb residence on foot with a transmitter hidden inside his sock. According to Hundley, Stevie had discussed a drug deal with Miss Ann and she had searched him. The final version of the report explained that transmission was poor and Hundley only caught a few words of dialogue. But he distinctly heard Ann say she would have to call her son Edward because she didn't know where she kept her drugs.
Grayson had a follow-up question. Had the Colombs ever accused Stevie of setting them up? Once again, Stevie tried to follow the official script. A few days after the raid, he said, he ran into Edward Colomb and Miss Ann at Jr.'s Food Mart. "And they was like, 'Man, we know you set us up, brother. You was the last one who left from the house. Ain't nobody else came after that. Right after you left, not even five or ten minutes, them people kicked down the door.'"

It was hard to lie consistently. The Colomb residence was raided a few minutes after Stevie and his mother dropped by. But in all of Hundley's reports, Stevie's drug deal occurred several hours before the raid.

Stevie's parole was revoked even though he had cooperated with the government. Visited by a private investigator a few days after his Grand Jury adventure, Stevie was back to his original story: he had never worn a wire and he certainly had never purchased drugs from the Colombs.


It isn't hard to tell when Stevie Charlot is lying and when he is telling the truth. His truthful statements are consistent, corroborated by others and offered freely; his lies are bizarre, mutually contradictory, and uttered with a gun pressed firmly against his temple.

We are left with a disturbing question: If Stevie Charlot didn't buy drugs from Ann and Edward Colomb on October 22nd, 2002, what are we to make of Detective Brian Hundley's police report?
Shifting the Blame
The warrant application Detective Dale Hundley handed to a judge on October 22, 2001, stated that a reliable confidential informant (C.I.) was willing to testify that "Edward Colomb . . . was selling Crack Cocaine From His Mother Residence" (sic). According to the warrant application, Hundley equipped his C.I. with a transmitter concealed inside a pack of cigarettes, gave him and $50 in photocopied buy-money, and sent him to the Colomb home.

Then things got complicated.

As previously noted, the raid turned up an embarrassment of riches—74 grams of crack cocaine, $160 in cash, and a handgun tucked inside a family room dresser. But the buy-money Edward took from Stevie and the bottle of crack cocaine Edward returned to his mother's panty drawer were not found.

Nagging questions were proliferating. If Ann Colomb had 74 grams of crack in her guest room dresser, why did Edward have to be summoned in the first place? And if the gun found in the guest room dresser belonged to Tim Price's mother, why wasn't Tim being charged?


Tim was off the hook because his mother, Janet Kneeland, worked in the same office as Brian Hundley in Crowley. Besides, as the warrant application makes clear, the whole operation had been designed to nail Edward Colomb. This wasn't surprising. Police officers pulled Edward's car over every time the young man got behind the wheel. He had been nailed for every traffic violation on the books, but his car always came up clean.

Brian Hundley wasn't the only Crowley cop who worked should-to-shoulder with Tim Price's mother. Jerry Stutes, an 18-year veteran of the Acadia Parish sheriff's department, was also an agent with the Drug Enforcement Administration and an investigator for Assistant U.S. attorney Brett Grayson. When the October 22nd raid at the Colomb home hit the jackpot, Stutes asked his boss, Brett Grayson, if he was interested. He was.

Grayson liked prosecuting narcotics conspiracies. If you followed a familiar formula and twisted the right screws, convictions were easily obtained. The prosecutor was always on the lookout for promising cases. Unfortunately, if the 74 grams of cracked was tied to Tim Price, the case would have to be handled at the state level. But if Grayson could tie the illegal substances to Edward Colomb and his momma, he had the makings of a first-class federal conspiracy case.
The pot was sweetened considerably by the fact that Sammy Davis had been taking a nap in the corner bedroom when the police officers raided the Colomb place. A shotgun was discovered in Sammy's room and an officer distinctly remembered Sammy stating that the weapon belonged to him. Eight years earlier, Sammy had pled no contest to a drug possession charge even though no drugs had been found on his person. Even in evidence-free cases, poor Black defendants will often plead guilty if the state is offering probation instead of jail time. That plea made Sammy a felon in possession of a firearm, a federal offense that could be easily folded into a narcotics conspiracy.

The alleged drug deal between Edward Colomb and Stevie Charlot allowed Grayson and Stutes to link Edward to the fruits of the search.

Although he claimed to have monitored the transaction in Ann Colomb's bedroom, Brian Hundley had no tape to corroborate his testimony. For the Acadia Parish Sheriff's Department this was standard operating procedure. A notorious liar like Stevie Charlot gained instant credibility with juries if a police officer testified that he was listening in. Recording the deal was unnecessary. In fact, it forced an officer to limit his story to what was on the tape and gave defense counsel something to work with.

Back in 1993, officers Brian Hundley and Dale Thibodeaux had needed a search warrant before they could search the car Sammy and Edward were riding in. They got the warrant by telling a judge that a CI had made a controlled buy at the Colomb residence. There was no evidence of this transaction. Just the uncorroborated word of a cop. But Ann counseled the boys to take probation in exchange for a guilty plea. It was a mistake she had come to regret.

This time it was different. As we have seen, Stevie Charlot signed a legal affidavit in the presence of an attorney swearing that he hadn't purchased drugs from the Colombs. Then Stevie called up Brett Grayson and said he wouldn't testify against Ann and her boys. Finally, Stevie reversed himself, telling a grand jury that the cops had it right.

All of this raises an important question. If, pre-raid, Stevie had gladly agreed to sell out Ann and her family, why did he suddenly develop the courage to stand up to the cops and a federal prosecutor?
Brett Grayson wasn't going to let a two-bit street hustler rob him of a federal conspiracy case. While little Stevie evaded the police, the Assistant U.S. attorney and his investigator, Jerry Stutes were heading up I-55 to the federal prison in Yazoo, Mississippi to talk to a very promising inmate.
A Bumpin' Club
The inmate Brett Grayson and Jerry Stutes wanted to talk to was Dexter Harmon. A smooth-talking street hustler with an entrepreneurial spirit, Harmon had been sent to federal prison in March of 2000 on the strength of inmate "snitch" testimony. But he had quickly learned to work the snitch game to his own advantage. Eventually, he would shave a multi-decade, no-parole sentence down to a mere six years. Ann Colomb and her boys were Dexter's ticket to freedom.

Jerry Stutes knew that, between 1989 and 1993, Harmon had once been the proprietor of the Carrier Club 88 in Church Point. If the Colomb family were involved in a narcotics conspiracy, Dexter would know about it.

The Carrier Club 88 had been named in honor of local sports legend Mark Carrier, a wide receiver for the Tampa Bay Buccaneers at the time. Harmon put little Church Point (pop. 5,000) on the map by booking big-city DJ's and rappers struggling to make a living in Houston's burgeoning Hip Hop scene.

But music wasn't the only thing Harmon imported from Houston. The Carrier 88 club was a front for the drug business. Patrons could see people snorting lines of powdered cocaine in the bathroom. Drug deals were going down from the minute the doors opened in the early evening till closing time at 2:00 a.m. The Rapper up on the stage often used a joint as a prop, and the sweet aroma of marijuana was ubiquitous.

The Carrier Club was exciting and dangerous. It was exciting because it was dangerous. If you walked through the door, chances were you would end up in a fight. The violence didn't break out randomly; it was choreographed by visiting DJ's.

"Is Rayne in the house?" the man with the mic would holler. The boys from Rayne would signal their presence with a roar. "Is Crowley in the house?" Another roar. "Is Lafayette in the house?"


Then the DJ would get down to business. "Now last week the brothers from Church Point kicked a little Crowley ass. So, I got one question—is Crowley gonna let that happen again?"

As if on cue, boys from the Church Point and Crowley would square off in the middle of the dance floor as chairs were moved to the walls and a circle of humanity closed in around the combatants.

The Colomb boys were just entering High School when the Carrier Club hit its stride in the early 90s. They were underage, but that was no problem. Harmon would turn you away at the front entrance and an associate would let you in at a side door. Wannabe thugs slipped their guns into a girlfriend's handbag before passing through Dexter's metal detector. On Friday nights, Dexter brought in strippers. And on Sunday nights, he provided free food for the block parties he threw for patrons who arrived too late to get inside his crowded venue.

When the Carrier 88 closed down at 2:00 a.m., youthful patrons wandered over to the Boulevard (Church Point's drag for high school kids) or hang out at the Sweet Shop, a fast food joint that stayed open late for precisely this clientele. The local police cashed in by stopping cars and writing tickets.

Harmon kept local politicians at bay for years by contributing generously to their campaigns. The Carrier Club was almost entirely segregated. White boys were too intimidated by the gangsta culture Dexter had imported to bucolic Church Point to risk showing up. But things were getting out of hand. On occasion, the local police force had to call for back up when the vast throng of inebriated revelers became more than they could handle.

As the Carrier Club was enjoying its halcyon days in the early 90s, the all-white Boulevard was gradually becoming integrated. In small southern towns like Church Point, football and church dominates the social life of every town (with basketball running a distant third). Edward Colomb was a highly rated point guard during his high school years and college scouts could be spotted in the stands checking him out. His brother, Danny, smashed every rushing record on the books in 1993, rushing for well over 100 yards a game and scoring two or three touchdowns per contest. White girls were paying attention. In the early nineties all four of Ann Colomb's sons had white girlfriends.
The response from the white community was swift and adamant. In 1993, while driving home from a pick-up basketball game in the black end of town, the car Edward Colomb and Sammy Davis were riding in was pulled over by a swarm of police officers. A search turned up a marijuana cigarette. Some suspicious crumbs were discovered on the floor. Edward and Sammy were searched and came up clean. But one of the boys they had been riding with was in acute physical distress. When his stomach was pumped at the hospital, he told the police he had swallowed several rocks of crack cocaine.

When sheriff's deputy Dale Thibodeaux informed administrators at the High School that Sammy and Edward were drug dealers, they were summarily expelled. In response, Ann and James Colomb sued the school board and the David-Goliath story story got a lot of play in the regional media. Edward had missed two months of basketball by the time the boys were reinstated and the Colombs had dropped their suit. As previously noted, Edward and Sammy pled no contest to possession charges, a decision the family would live to regret.
Randy Henry, the youngest of Ann Colomb's four sons, dated a black girl named Margeaux Coleman during his high school years. An outstanding athlete and president of the National Honor Society, Margeaux was valedictorian of her graduating class. The football team elected her Homecoming Queen in 1995—the first black girl to win that distinction. Following the family tradition, Randy was an athletic standout. It was "football hero dates homecoming queen": an American classic.

During the halftime coronation, raucous boos erupted from white fans. Black-on-white fights broke out in stands and spilled over into the parking lot. Gunfire was heard throughout the town. One grocery store owner stood in front of his place with a shotgun, firing randomly into the air. No niggers were entering his establishment that night, he declared.

The following year, Church Point selected David Duke, the former Ku Klux Klan Grand Dragon, as the grand marshal of the white Mardi Gras parade (the black community, in accordance with established custom, held a separate parade). The messaging wasn't subtle.

When a second Black girl was selected as homecoming queen the following year, the school board quietly voted to eliminate the homecoming queen tradition. A court would be elected, but no queen would be crowned.

It was against this social backdrop that Danny Davis was arrested in 1995. Deputy Troy Hebert said he saw a drug dealer approach Danny's white Mustang 5.0 and complete a hand-to-hand transfer before selling drugs to an undercover officer. Uneasy about taking such sketchy evidence to court, local officials tried to coerce Danny into taking a plea bargain. Danny refused.

A year later, Dale Thibodeaux and police officers from several regional jurisdictions broke into the home of Danny's white girlfriend. A gun was pressed to Danny's temple and his girlfriend, her mother, and even her infant son were also restrained at gunpoint while the house was searched. When the search came up empty Dale Thibodeaux grabbed Danny's arm and dragged him triumphantly down the front steps. A news team was waiting to capture the arrest of a drug kingpin for the local market. Once again Danny was asked to accept a plea bargain; once again he refused.
By the mid 1990s Church Point was a transformed community. The Boulevard had been shut down. White girls who had dated Ann Colomb's sons had been transferred to the Sacred Heart Academy in a nearby town.
In 1997, a young black man who had driven from Arkansas to Church Point stopped Randy Henry and asked him where he could find the Carrier Club 88. When Randy said Dexter's club had been closed for two years the young man was devastated. "Really," he said, "Man, I heard that was a bumpin' club."

By 1997 Dexter Harmon was actively exploiting his contacts in Houston. This was the part of the story Brett Grayson and Jerry had traveled to Yazoo City to hear.
That Voodoo That You Do So Well
Dexter Harmon had been in the federal prison system for two years when Jerry Stutes and Brett Grayson dropped by for a chat. Several of his former associates had snitched on Dexter and he had snitched on the people up the ladder from him—particularly the kingpin, John Timothy Cotton of Houston. This testimony was part of the massive Operation Rap Crack which nailed fifty-two defendants prior to Tim Cotton's three-week trial in 2004 that resulted in a life sentence.

Harmon wasn't lying when he said he knew Danny Davis and Edward Colomb. The two young men had been celebrated high school athletes when the Carrier Club was at its prime. Danny's picture was in the paper on a weekly basis in 1994 and anyone who followed high school athletics in the region knew him by sight.
Harmon told Grayson and Stutes that Danny was an even bigger drug dealer than his brother Edward. This came as a shocking revelation. Jerry Stutes hadn't even brought a picture of Danny Davis with him to Yazoo City; but he promised Grayson that he would rectify that oversight.

The Tim Cotton operation reputedly shipped crack cocaine from Houston to towns in Texas, Arkansas, Oklahoma, Kansas and Louisiana. Operating out of Rayne, a town just south of Church Point, Harmon was Cotton's major supplier in western Louisiana. At Cotton's trial, Harmon testified that he had traveled extensively throughout the United States on Harmon's behalf. In addition, he made several money laundering runs to the Dominican Republic, once with hundreds of thousands of dollars stuffed inside a Nissan Maxima.

Big time dealers like Dexter Harmon get most of their money in small bills from street level dealers who make dozens of nickel-and-dime deals a day. Crack rocks sold for between five and twenty dollars, money which can't be banked in volume without raising suspicions. Dexter accepted a plea deal. He had no choice. The feds had phone records showing he had been in constant contact with his associates in Houston and receipts showing he had repeatedly wired vast sums via Western Union.

After Cotton's trial, the government enticed media interest by noting that Dexter Harmon, working at Cotton's behest, had paid a Voodoo priestess in the Dominican Republic half a million dollars to place a hex on the United States government. The investment didn't pay off.

Legal records show that a small coterie of mid-level dealers from the Rayne area procured their drugs from Harmon. Most of these guys had been regulars at the Carrier Club 88 in the early 90s. As soon as Grayson and Stutes took were gone, Harmon fired off a letter to one of his former associates, Cleveland "Gotti" Benoit. Gotti was a drug dealer who had once performed in Dexter Harmon's rap group. The "Gotti" label was probably stolen from Irv Gotti, the head of Rap label Murder Inc. before he was busted by the feds on tax evasion and narcotics charges.


The link between Hip Hop icons and the drug culture was obvious and intentional. Many rappers portrayed themselves as desperate crack slingers on the run from the cops. Sometimes art mimicked reality. More often, the gangsta posturing was just a cheap marketing ploy. As a consequence, any Black male associated with rap music was suspect—even if he had just cranked up a TuPac tune on his system. The title "Operation Rap Crack" suggested an intimate association between Black music and drug crime. Stevie Charlot had once toured Europe and the United States as a drummer with Beau Jocque and the Zydeco Hi-Rollers before the band leader died of a heart attack and Stevie succumbed to a crack addiction.

The day before Stevie Charlot allegedly bought crack from Ann and Edward Colomb, Cleveland "Gotti" Benoit wrote his defense attorney begging for an opportunity to rat on somebody. His plea bargain was dependent on his willingness to roll over on Dexter Harmon and his kingpin buddies, but when these guys copped pleas Benoit was out of luck. "If nothing happens to me and I have to do the rest of my sentence," he lamented to his attorney, "I'll be the only one [from the Rayne area] who didn't benefit from helping the government."

The government's snitch system is predicated on the draconian mandatory minimum sentences Congress attached to federal drug sentences in the 1990s and the fact that parole has been abolished from the federal system. When you give a man like Cleveland Benoit twenty years without parole, he gets desperate. He's supposed to. Short days after receiving Harmon's letter, Benoit fired off a missive to Brett Grayson. "Threw a few of my sources (sic)" Gotti told his prosecutor, he had learned that the feds were investigating "the Cologne brothers." His source, of course, was Harmon.

On May 13, 2002, Benoit received a visit from Jerry Stutes. Dexter Harmon's ex-flunky had little trouble picking Edward and Danny out of a photo array. They were the only ones with head-and-shoulder shots (the others were just head shots). Benoit told Stutes that he had served as Harmon's back-up man whenever he ran short of drugs. Since Benoit got his drugs from Harmon, this was an odd arrangement. Dexter ran out of drugs a lot—Benoit reported weekly transactions of approximately $7,000.

Marcus Ledet learned about the Colomb investigation while washing dishes with Benoit at the Beaumont Low federal prison. On April 26, 2002, an eager Ledet wrote Grayson. "I was told you were investigating the Culone brothers from Church Point, Louisiana," the letter began, "on charges following their past and future."

The repeated misspelling of the Colomb name probably originated with Harmon. Edward Colomb went by the surname "Henry" in the mid-1990s and Danny's surname was "Davis". This suggests that the "Colomb" name had to be supplied by Grayson and Stutes.

By the time a grand jury convened in May of 2002, Stutes and Grayson had interviewed most of Dexter Harmon's former associates from the Rayne area. Before long, Danny and Edward Culone-Cologne-Colomb had been tied to 250 kilos of crack cocaine with a street value of $65 million.

But the government had a problem: there were no phone logs, no money wires, and no clear social connection between grown men like Dexter and high school kids like Danny and Edward who were supposedly selling millions of dollars of crack every week before they were old enough to shave.

Grayson might have asked himself how Ann Colomb's boys could have pulled off over three million crack deals by themselves—that amounts to a thousand deals every day, seven days a week. Although the indictment referred to "unindicted co-conspirators" no names were ever mentioned. The problems deepen when you consider the post-high school career of Danny Davis.
The Social World of a Drug King Pin
Once the Colomb name entered the federal prison grapevine everybody wanted a piece of the action. It began with young black men living within a one-hundred-mile radius of Church Point. Next, convicted dealers from Houston started contacting Brett Grayson. According to their stories, Edward and Danny would buy drugs in the parking lots outside of a Houston strip joint, a 7-11 or a Whataburger.

Danny's white Mustang 5.0 figured prominently in these stories long after the car had gone back to the finance company. Testifying to the grand jury in 2002, one inmate reported that Danny was at the wheel of a white 5.0. Asked if that was a Mustang the witness mumbled, "I guess."

Eventually, inmates as far away as Midland, Texas (over 700 miles from Church Point) were informing on the Colombs.

The lives of Edward Henry and Danny Davis changed dramatically once they left High School in 1994. The adulatory write-ups in the local paper were gone. Their social world had been systematically dismantled. The Carrier Club 88 was closed by 1995 and the Boulevard, Church Point's youth drag, had been shut down. Whenever the boys got behind the wheel chances were good they would be pulled over by the Church Point police. Consequently, their social universe was almost entirely confined to their parent's home.

As we have seen, Danny, Edward and Randy were dating white girls by the mid-90s. The boys were still popular with the girls and the home of Ann and James Colomb became a substitute hangout. It was the only place white and black kids could interact without attracting unwanted attention.

When I interviewed half a dozen of the white girls who spent a lot of time at Ann's place, the same basic story was repeated. They could all expect to be pulled over for trivial traffic infractions after every visit to the Colomb residence. Tickets were rarely written, but questions abounded: "What were you doing at the Colombs? Don't you know they deal drugs?"

Sometimes the remarks got personal. "What's a good-looking girl like you doing around a bunch of niggers? You're too good for that."

Ann told her boys to keep a written record of every encounter with the police. She was becoming a kind of den mother for young black males with horror stories of their own. Ann would accompany them to the courthouse and walk them through the process. Charges were repeatedly dropped when defendants refused to accept plea offers and the cops had no real evidence.

Edward Henry changed his surname to Colomb and married Tacha (Natasha), his childhood sweetheart. He worked concrete under the remorseless Louisiana sun, enduring the constant traffic stops with stoic fatalism. Tacha never saw him cry, but his mood was somber. He seem convinced that he was destined for prison no matter how hard he worked to avoid it. In the two weeks leading up to his wedding, Edward was assessed $1600 in traffic tickets. He spent the ten days leading up to the blessed day in the local lockup because he didn't have the money to pay the fines.

But Edward refused to leave Church Point. He worried about his parents. He wanted to be there for them.


More sensitive by nature than his older brother, Danny was on a slow slide into chronic depression. He told his therapist that if the police would leave him alone he could pull himself together. One day when a local cop gave him the finger, Danny snapped. "You're just doing what you do because you know I can't do nothing about it," Danny hollered. "Step out from behind that badge and I'll whip your ass!"

This kind of response, though understandable, simply deepened his adversarial relationship with the local authorities.

Then Danny met Elizabeth Carrier, the daughter of a white Catholic family from nearby Carencro. Elizabeth grew tired of being stopped by the police every time she drove to Church Point and eventually talked Danny into moving to Opelousas, a larger town fifteen miles to the north. At the time Danny was driving an $800 1983 Buick Riviera with $1900 rims. He sold the rims to finance the move and started working construction.

When the Riviera's transmission went out, Danny was too poor to repair it. For two years he had to request a push to get rolling and always parked with his wheels against the curb.

While in Opelousas, Danny enrolled in a technical college, working toward a degree in business machine repair. He hadn't been much of a student in high school. It hadn't helped when his teachers winked and gave him grades he hadn't earned. But things were different now. Danny was up at six in the morning. He worked construction till five in the afternoon, then showered and drove to his evening classes. When Danny and Elizabeth moved to Lafayette a year later, he worked the graveyard shift as a garbage man and kept attending classes.
Graduation brought a decent job with a grown-up salary, a mortgage, and a new sense of self-respect. Elizabeth's parents had grown up in Church Point and they were initially horrified by the idea of their daughter dating a black man. Rumors that Danny came from a drug dealing family didn't help. Rodney Carrier knew he couldn't stop his daughter from marrying Danny, so he screwed up his courage and paid him a visit. Danny told him he didn't sell drugs and didn't use drugs. Moreover, he loved Elizabeth and wanted to support and protect her. The two men embraced and Rodney drove home.

As Rodney and Lois Carrier became acquainted with the flesh-and-blood Danny Davis their concerns melted away along with the racial prejudice they had imbibed with their mothers' milk. Danny started attending a Bible study at the Catholic Church in Carencro and on Wednesday evenings he and Rodney would knock back a few Bud Lites and talk about God.

Everything changed on October 22nd, 2001. At first only Ann and Edward were part of the alleged drug conspiracy. But one spring day, while rolling up to his parent's place in Church Point, Danny Davis saw a police car pull in behind him. The nightmare was back.
This case really boils down to Danny and Dexter. Ann, Edward and Sammy were just as innocent as Danny, but Danny's innocence was particularly obvious. Danny has never been convicted of a felony. He moved away from Church Point four years before his parent's home was raided. For years he slaved as a garbage-man while carrying a full academic load at a business college. And he wasn't added to the federal indictment until Dexter Harmon dropped his name in February of 2002.
The Trial
When I first met Ann Colomb and Jennifer and Mariah Price in New Orleans back in 2004, they handed me several binders of court documents they had received from their attorneys. Back in Texas, I spent several hundred hours reading and re-reading this material. I told Ann she had nothing to worry about. I couldn't imagine a US Attorney taking evidence this weak to trial. They would try to extort a plea bargain, I predicted. When that failed, they'd drop the charges and move on.
I didn't realize that Brett Grayson wasn't your typical federal prosecutor. Grayson looks and talks like a cross between Don Rickles and Dick Cheney. Like his former boss, John Ashcroft, Grayson is a fervent Pentecostal.
Brother Grayson has nothing personal against Ann Colomb and her family. But he is occupationally married to the United States government, a partner with an insatiable appetite for incarceration. Mr. Grayson incarcerates drug dealers because it's easy. Once convicted, federal inmates are used to convict their friends. The more draconian the sentence, therefore, the more desperate the inmate will be. Desperate inmates are easily tempted to rat out their friends. When they run out of friends, they become very creative, inventing stories out of nothing.
Asked in the course of trial how he evaluated the credibility of his witnesses, Grayson shrugged dramatically. It wasn't his job to assess credibility, he told the Judge, that was the jury's job. Grayson was good at his job. The Louisiana Narcotics Agents Association named him Narcotics Prosecutor of the year in 2005.
By the time the Colomb-Davis case went to trial in March of 2006, assistant U.S. attorney Brett Grayson had assembled thirty-two jailhouse witnesses eager to tie Ann and the boys to hundreds of kilos of crack cocaine. At a pre-trial hearing, Judge Tucker Melancon ruled that sixteen snitches should be quite sufficient for Mr. Grayson's purposes. Grayson appealed this ruling to the notoriously pro-prosecution 5th Circuit. Melancon was told that potential witnesses couldn't be eliminated without a hearing at which their credibility could be assessed.

How does a judge, or a jury, assess the credibility of a snitch who can't corroborate his story? Everyone knew these guys were testifying in exchange for time cuts, but that didn't prove they were lying. Eventually, Melancon yielded and thirty-one snitch witnesses were lined up for trial.

Early on, Stevie Charlot was called to the stand to repeat his story about buying drugs from Ann and Edward. He testified like a man scared out of his mind. Refusing to look up and speaking in hushed tones. When defense counsel challenged Charlot's credibility, Grayson was indignant. Melancon said he had his own ideas about little Stevie's credibility, but, ultimately, that would be a decision for the jury.
Then it was time for the snitch parade to begin.
Dexter Harmon went first. This made sense. He was the most intelligent, articulate and persuasive inmate the prosecutor had at his disposal. Also, unlike the rest of the snitch witnesses, Dexter had actually lived in Church Point. Ann's boys had patronized his club from time to time, so there was a chance he knew what they looked like. It was a bit of a stretch, of course, to believe that high school freshmen and sophomores were buying kilos of cocaine at a time. This disconnect had probably occurred to Dexter himself. When he talked to Grayson and Stutes back in 2002, Dexter was describing enormous transactions involving dozens of kilos. By the time the trial got underway three years later, he would only say he had sold a little over a kilo to Edward and a little less than a kilo to Danny.

For southern jurors, the glaring contradictions in Dexter's testimony were offset by his new status as a born again child of King Jesus. "When I terrorized the streets I worked for the devil," Dexter told the jury. But "I've come to know Christ and brought many people to the gospel." To prove the point, Dexter had organized a Bible study right in the joint.
Harmon was followed by three of the men who had worked in Dexter's Rayne operation: Cleveland "Gotti" Benoit, John Roberts, and Marcus Ledet. Of the three, only Ledet had ever met Danny and Edward—and that was when the boys were all in junior high school. Ledet's brother Marvin had signed an affidavit stating that Marcus had invented his testimony in exchange for a time cut. "My brother should repent to God for lyin' like that on Miss Ann and her family," Marvin told me when I interviewed him.

Cleveland Benoit told the jury that Dexter Harmon had written him to say that the government was investigating the Colomb family. "Gotti" Benoit then passed the word to his buddy Marcus Ledet as the two men washed dishes in the kitchen of the Beaumont Low federal prison.


In the end, Brett Grayson only called twelve of his snitch witnesses. That's because, midway through the trial, a letter arrived at the U.S. attorneys' office in Lafayette from an inmate in the Three Rivers, Texas federal prison. His name was Quinn Alex (not surprisingly everyone calls him "Alex Quinn"). Alex said he had paid $2200 to one of Grayson's lead snitches in exchange for information that should have allowed him to testify against a federal drug defendant in exchange for a time cut. When Alex got nothing in exchange for his sizable investment, he wrote his lawyer to complain. Unlike Dexter and the boys, Alex had Western Union records to back up his story.

Judge Melancon insisted that Quinn Alex be conveyed to the federal courthouse in Lafayette ASAP. Shortly after lawyering up and taking the fifth, Alex testified that he had heard Edward Colomb's name being talked up in more than one Texas prison. More than that he wouldn't say. The Quinn Alex letter confirmed Melancon's worst fears. He mentioned several of the witnesses on Grayson's list by name. Still, although defense counsel called for a mistrial, the judge allowed the trial to proceed. He knew the Fifth Circuit would rule for the prosecution.
Melancon came to regret his decision. Interviewed by Radley Balko well after the trial, Melancon expressed his frustration. "The allegation that money exchanged hands is really troubling," he said. "Where there's that much smoke, there must be some fire. I should have declared a mistrial. Had the jury known what I knew, I don't think they would have returned a guilty verdict."
The jury was probably relieved when Mr. Grayson called his snitch parade to a halt in mid procession. The testimony was highly repetitive because they were all reading from the same script. But they jury was not apprised of the Quinn Alex incident and was therefore unable to weigh its significance.

Throughout most of the trial I was confident that Ann, Danny, Edward and Sammy's nightmare would soon be over. Everyday after trial, I drove to a local library, signed into a computer, and cranked out a blog post. Midway through the two-week trial, the local newspaper started linking to my posts. I had been unable to whip up much interest in the trial, but it didn't cost anything to link to my coverage, nor did it detract reporters from more important matters. But as the trial progressed my mood darkened. The night before the verdict was handed down I woke with a start in the middle of the night. It suddenly hit me that the jury, knowing only the facts gleaned from trial, were bound to convict convictions. I began to tremble. Quietly, I knelt beside my bed in Ann's guestroom and implored God to work a miracle.
A shocking development
The final day of trial was drearily predictable. As was his custom, Danny Davis arrived early so he could spend time in prayer at the Catholic church near the courthouse. Ann was stoic as she bustled about making breakfast, fully aware that this might be her last morning in the free world. But the set of her jaw made it clear that she shared my apprehension. I got a phone call from a reporter just as we arrived at the courthouse. At least they were going to cover the verdict if not the trial. As I talked to the reporter, Ann said she'd go on ahead.
The quick phone conversation ended and I scurried to catch up with Ann. The picture to left was taken seconds before we entered the building.
The jury filed into the courtroom and pronounced a long series of guilty verdicts. Judge Melancon announced that a sentencing hearing would be held in a couple of weeks.
Brett Grayson told the judge he would be asking for twenty-year sentences for Sammy and Edward (enhanced by their felony conviction in 1993), and ten years for Ann and Danny. In addition, he said with evident satisfaction, since the Colomb home had been used as a base for a massive drug operation, it would be confiscated. Not only would James lose his wife, he would be out on the street.
The courtroom gallery was filled with family. Elizabeth Davis was present along with members of her family. She had just given Danny the news that she was pregnant. Jennifer Price and her father, James Colomb, were present. Natasha Colomb, Edward's wife was there along with their children. When the verdicts were announced, an anguished gasp filled the room. Grayson expressed his displeasure and the judge called for order.
The instant Melancon pounded his gavel, Ann Colomb and her sons were handcuffed and ushered out of the room. We had been led to believe that they would remain free until the sentencing hearing, but it was Grayson's call.
In an instant, I was transformed from a criminal justice reformer into a pastor. There was no one else to fill that role, and ministry, even if the situation seemed hopeless, was desperately needed. That evening, I drove from family-to-family, hugging, praying and, when it seemed that nothing else could be done, quietly slipping away. The grief was palpable. Grayson's intention to take confiscate the family home was particularly galling for Jennifer.
It was in this connection that little Mariah informed me that Jesus was in jail with her granny, and God was going to get them out. "That's what I'm gonna pray for," I told her. I wasn't about to promise.
The next day, we drove to Lafayette where we were able to speak with Ann virtually. No direct visits were allowed. The family couldn't even see her through plexiglass.
But Ann was remarkably upbeat. Whatever she was feeling inside didn't show on her face. She said she had been praying hard and had no doubt that justice would be done in the end. The reality was grim. Her diabetes acted up, in part due to stress, and the staff was slow to get her to the hospital. But she wasn't going to let her family know that. Not yet.
In the male side of the prison, the scene was very different. Quinn Alex But moments after Ann Colomb and her son's were convicted, the boys were approached by Quinn Alex and a second inmate identified in court records simply as "John Doe". John Doe would have testified at trial if Grayson hadn't cut the snitch parade short. Deprived of an opportunity to provide "substantial assistance" to the government, he was waiting to be transported back to federal prison.
Although he had never met Danny and his brothers, he was curious. Danny had organized a Bible study and prayer meeting for his fellow inmates. John Doe was familiar with the dynamics of jailhouse religion, but Danny looked legit. When the two men spoke, Danny didn't talk or move like a drug dealer. John Doe compared notes with Quinn Alex. Alex was having similar doubts. John Doe was hesitant to give a sworn affidavit to Danny's attorney. Snitching on snitches is a dangerous business. Assured that he would be protected, he signed a statement asserting that he had personally witnessed Dexter Harmon, Marcus Ledet, Cleveland Benoit and three other snitches conducting a perjury party behind bars. They had shared information provided by the prosecution and coached one another on what to say and how to say it.
Free at last
On the day of the sentencing hearing, the Colomb-Davis family were expectant but apprehensive. I had traveled to Lafayette with my wife, Nancy. She had last seen Ann, Jennifer and Mariah when we met in New Orleans two years earlier and didn't want to miss whatever came next.
Attorneys for both sides were given an opportunity to explain why the defense motions for a new trial should be accepted or denied. During the March trial, Judge Melancon had remarked that he certainly had an opinion of Stevie Charlot's credibility but refused to elaborate. At the July hearing Brett Grayson challenged the judge to explain this cryptic remark. Melancon replied that Charlot was probably the least credible witnesses he had ever heard under oath. He characterized the informant's testimony "an abomination". This sure sounded like a good sign.
When both sides had completed their presentations, Melancon called a ten-minute recess. As the ten minutes stretched to over half an hour, the families were getting restless. The suspense was crushing. When the court was back in session, the judge spent what seemed like an hour explaining his great reluctance to vacate a jury sentence under any circumstances. Then he fell silent, stared at the ceiling for a moment, and announced that he was granting new trials to Ann, Edward, Danny and Sammy.
The families responded with whoops of joy and broke into spontaneous applause. "Be quite," a scowling US Marshal shouted. Now Grayson was on his feet, waiving a stack of papers like a latter day Joe McCarthy. The DEA had interviewed Dexter and the boys, Grayson shouted, and every one of those boys had sworn they were telling the truth, the whole truth and nothing but the truth.
Melancon told the Marshals he wanted the defendants back on the street in less than an hour, but it took four times that long. After two hours in the sauna-like conditions, my wife Nancy scooped up four children and drove them to the nearest McDonalds for an ice cream cone. Meanwhile, some of the older family members took refuge in the air-conditioned waiting room of a bail bondsman.
Finally, the defendants were released to their loved ones. Natasha Colomb embraced her Edward and Elizabeth Davis rushed to her Danny. Elizabeth hadn't been able to stay in the house Danny had built for her while he was locked up. Now she took the ring she had been wearing close to her heart and placed it back on Danny's finger where it belonged.
"Hey y'all," Danny called out, "we need to thank God for this miracle." Thirty men, women, and children joined hands in a big circle. Danny led us in a short, workingman's prayer followed by the familiar words, "Our Father, who art in heaven, hallowed be Thy name . . ."
Grayson eventually dropped all charges against Ann and her sons. The case was garnering some media attention, and a second trial was bound to attract notice. No one wanted the American public thinking too hard about the legitimacy of snitch testimony.
Judge Melancon's eagerly anticipated written ruling made it clear that Grayson was in trouble. "Issues that have arisen in this case–before trial, during trial and after trial–are troubling," Melancon stated. "Occurrences in this case suggest that a systemic problem may exist within the penal facilities operated by the Federal Bureau of Prisons. In the view of the trial judge, the issues raised herein are so substantial and grave that those who have the power and the authority to do so need to address them. It is therefore requested that . . . an independent division of the United States Department of Justice investigate the issues that arose in this case, as well as the sharing of information in Bureau of Prisons institutions by federal inmates, regarding pending federal criminal cases for remuneration or otherwise."
Melancon was so adamant about his order that he made a special trip to Washington DC to outline his concerns. To this day, no one knows if this investigation he ordered ever came to fruition.
A couple of years after Ann and her sons were released from prison, I accompanied her to a public meeting in Bunkie, Louisiana. Brett Grayson's boss was in attendance. US Attorney, Donald Washington approached Ann with a quizzical look on his fact.
"I'm sorry ma'am," he said, "but you look awfully familiar. Have we met?"
"No, Mr. Washington," Ann replied, stone-faced. "We haven't met. I was the woman you put in jail for dealing drugs."
Washington looked mortified. "Oh, Mrs. Colomb," he said. "I am so sorry about what happened to you and your family. And I want you to know that the men who lied about you and your sons are being punished to the full extent of the law."
In 2018, Donald Trump tapped Washington to lead the United States Marshals Service. Brett Grayson eventually went into private practice defending drug dealers. I suspect he's very good at it.
The Colomb debacle hardly raised a ripple in the media world. Most of the attention the story attracted was sparked by a talk I gave at a roundtable gathering on the abuse of snitch testimony in Atlanta. Radley Balko (now a criminal justice reporter with the Washington Post), wrote an investigative piece for Reason magazine and a follow-up in the HuffPost. Law professor Alexandra Natapoff, a roundtable attendee who would emerge as a national authority on the abuse of informant testimony, has featured the Colomb case in a 2010 book, Snitching: Criminal Informants and the Erosion of American Justice. She has also used the case as Exhibit A in a 2018 article on the subject.
The Colomb case is just one example of how the use of criminal informants, and jailhouse informants in particular, distorts large swaths of our criminal justice process. Unlike many other countries, the U.S. criminal system permits the government to trade leniency for information, giving law enforcement wide discretion. Police can refrain from arresting a person who offers information about somebody else. Prosecutors can drop charges or recommend lower sentences in exchange for a defendant's cooperation. This authority has created an enormous market for information and cooperation in the criminal process. Defendants, inmates, defense attorneys, prosecutors, and judges all understand that leniency is available for those who offer useful information to the government. Cooperation is a way of "working off" sentences. This awareness affects the behavior of every player at every stage of the process.

From Natapoff's 2018 article
Ann Colomb died in February, 2021. She had been suffering from heart problems for years, and was scheduled for an operation. Her husband James asked her if she would like a cup of coffee and, by the time he returned, she was gone. "I can't thank you enough for helping me bring my family home," Jennifer Price told me recently. "It's because of you that we had the last fifteen years together as a family."
It's been several years since I've visited Church Point, Louisiana. But every year on my birthday, I get a call from Jennifer and the rest of the Colomb clan thanking me for helping turn around this horrific injustice. Knowing this family has been one of the great privileges of my life.