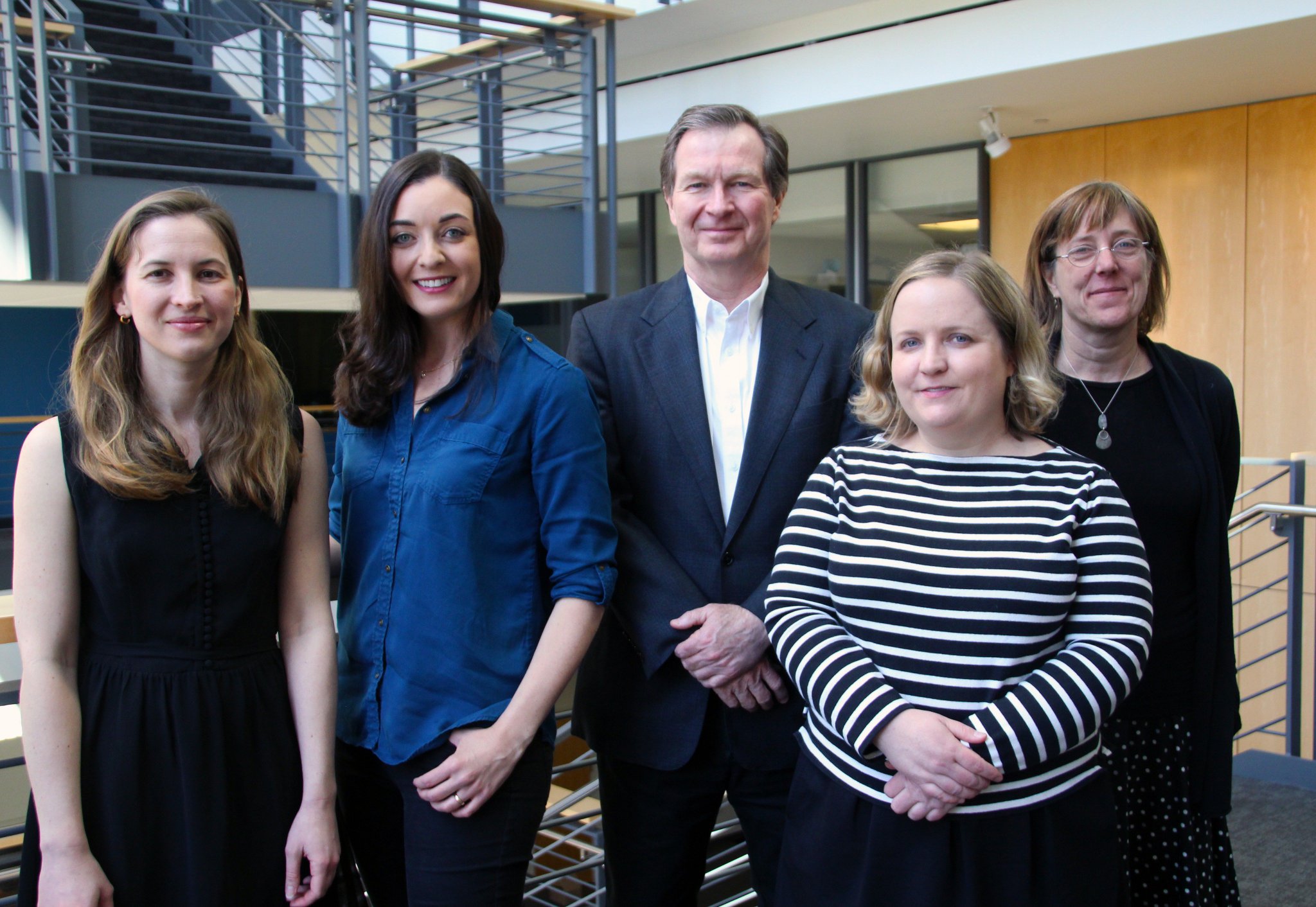 I got a call from Madeleine Baran (front right) exactly one year ago.  She had been researching the Curtis flowers case for the In the Dark podcast and came across my extensive blogging on the subject.  When Madeleine and Samara Freemark (second left) spent two days with me in Arlington, Texas a week later it was obvious that they knew almost as much about the case as I did.  They had read most of my major blog posts and had plowed through six trial transcripts.  And that was before they spent a year in Mississippi.
A year later, the first two episodes of their groundbreaking podcast are up (you can find them wherever you get your podcasts–I use Stitcher).  If you have no idea how to access a podcast, you can find a print version of their preliminary work (including a lot of stuff they didn't have time to include in the podcast and plenty of stunning pictures that I have never seen before).
If you've never listened to a first-rate podcast, think of This American Life  and multiply by ten.  A ten-episode podcast like In the Dark can entangle you in the weeds of a story with so much artistic panache that boredom isn't an option.  If your commute is about 45 minutes, you can listen to an entire episode coming home from work.
Typically, when I get a journalist to tackle one of the cases Friends of Justice has investigated, I refer readers looking for context and greater depth to my own blogging.  When an editor gives you 700 words or ten minutes of television, you can only say so much.
But In the Dark is taking the Flowers story places I could never dream of going.  There are all kinds of people who won't talk to me because I am an unabashed advocate for a particular perspective.  And there's only one of me.  And I could never afford to spend more than a week or two at a time on the road.  But the In the Dark crew spent a full year on the ground in central Mississippi and they talked, at length and in depth, to everyone associated with the story.   And there are dozens and dozens of people to talk to, each one more captivating (and disturbing) than the last.
There is one person they couldn't talk to.  They tried every trick in the book–even hired a lawyer–but they couldn't swing a sit-down with Curtis Flowers.  The Mississippi Department of Corrections doesn't want anyone talking to Curtis.  They know this story has the potential of embarrassing everyone associated with it.  And even if the DOC relented, the crack attorneys currently assigned to the Flowers case wouldn't give their man an opportunity to blurt something that might jeopardize their legal fight.
Curtis knows the case is getting the attention it deserves, but he can't speak on his own behalf.
If you are dying to know what Curtis might have said, read It's Still Hot as Hell on Parchman's Death Row, an account of my 2011 interview with the man at the center of the story.
The research behind In the Dark is staggering.  Madeleine, Samara and their friends have come up with never-before-seen video, audio, photos and legal documents.  The interviews with the key eye witnesses in the case add freshness, depth and pathos to the story and will raise your eyebrows at least an inch.  I Promise.
I will keep you updated as additional episodes drop.  Listen to ten minutes and you won't need any further urging from me–you'll be hooked.